A pricey new clip posted…..  Expensive Erotica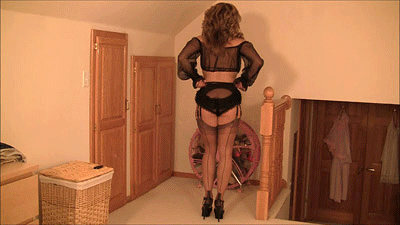 What does this clip have to do with Financial Domination? Well, if you have the desire to pay for it, you've already answered that question. Pricey enticement. Financial worship. Adoration in cash. An extremely rare view of more of Me than I've ever revealed before. And on this day of Love and Adoration, Valentine's Day 2016, you have the opportunity to worship even more of My beautiful body in this intimate clip. At a steep price, of course. Always making you pay. The MORE, the BETTER. you always crave more of Me, I know that. I dangle it in front of you like a carrot, an expensive one.
This clip was shot in 2012 for My (now closed) lingerie paysite. It was available once in My members area for about two weeks. In the clip I am wearing a sheer top over an open cup bra. On My sweet ass, a pair of sheer ruffled panties worn over My 12 strap garter belt and on My legs are clad in full fashioned stockings, My feet in black platform heels. I remove My panties at the 5 minute mark and soon the top and open cup bra. Because of the sheer clothing and nudity, the animated preview image doesn't show much, obviously. This clip is sensual, beautiful, erotic and natural. When I shot this clip, I did it for MY pleasure, just like everything I do. And if you wish to view it, you will PAY, which coincidentally is also for My pleasure. Naturally.
I hardly expect a $600.00 clip to sell any higher than this:  😉