I'm in the mood for making examples out of those who still refuse to follow My rules.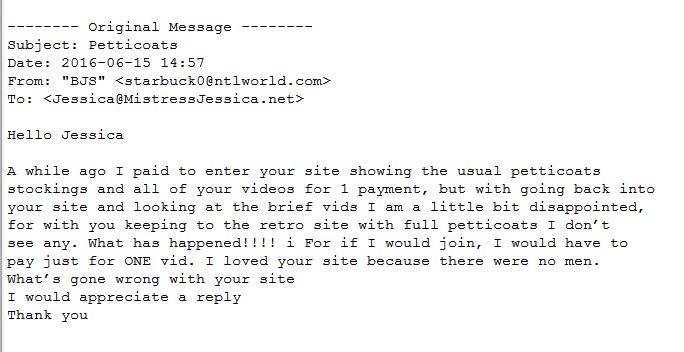 'A while ago'  is ONCE back in 2006 for a measly $19.95 for 30 days access to My (now closed) lingerie site.
Oh no!  He's disappointed.
Yes, I love My vintage lingerie and there was a time, AGES ago, that I did some videos/photos in the retro/ kind of pin-up style…but that was AGES ago and I got sick of the cutesy 1950's pin-up stuff. People grow, change, and evolve. DEAL WITH IT.
"What has happened??"
Translation:  Why can't I get ALL of your stuff for CHEAP anymore?
Oh boo hoo…….do you need a tissue crybaby??
you KNOW My feelings about paysites and giving everything away for one low price. I have learned that guys who join paysites are some of the cheapest mother fuckers ever!! If I could do it all over again, I never would have done a paysite, I would do what I'm doing now….selling individual clips.