New stocking clip posted!   Vintage Seamed Stockings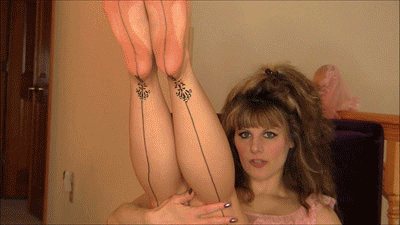 This is just a classic stocking leg tease video. I'm wearing a pair of rare vintage Full Fashioned stockings which have a fancy flocking and jewel design on the back of the stockings. These nylons are probably 50+ years old! Of course I'm wearing them with a garter belt, which you can see the straps right through My vintage nightgown, but you also clearly see them when I'm sitting down. There is a bit of leg crossing and heel dangling. I take My peep-toe high heeled pumps off a couple of times so you can appreciate My pretty nylon soles and feet!
I took a couple of pictures of the stockings before I put them on. According to the welt imprint, these are "Sparklette" stockings….(don't know if that's a brand or just name of the style).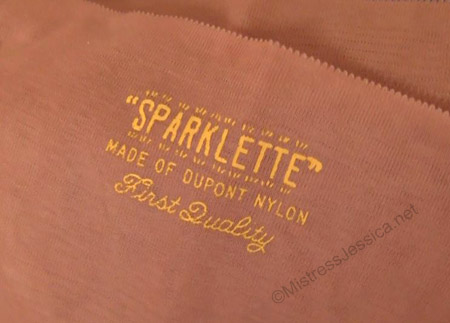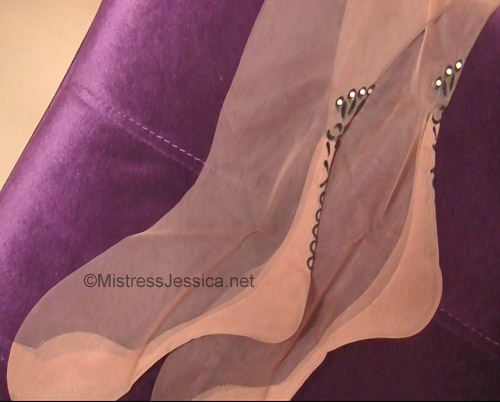 When I was going looking My vintage stockings collection for a pair to wear, I realized I really need to go through them and weed out some of the non-fancy/rare/unique styles that I've accumulated. I'm not sure what I'm going to do with them yet….perhaps give them to a friend who sells at antique flea markets or bring them all to an antique/vintage shop Myself. As I've said before in videos, I prefer MODERN Full Fashioned stockings because of LENGTH issues. Hey….kinda like some of you boys!!  😉
Since the stockings tend to run short on Me, that means I have to, usually, wear a girdle with them. And when I do wear a garter belt, the straps are usually extended to the max. I much prefer garter belts over girdles because then I can show off My sexy panty ass! And, lets be real, it's a PAIN IN THE ASS trying to pee in a girdle!!  lol