In My store:    Face Standing in Heels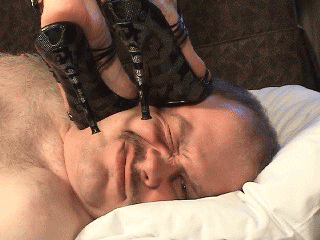 This clip is from 2006 and shot in standard definition (640×480). I'm wearing a pair of very sexy, black strappy high heeled sandals. I'm wearing an ankle bracelet and My toenails are painted a yummy cherry red. I start out standing on the side of trampleguy's face with My FULL BODY weight and at times I stand on just one foot. I turn around so My toes are facing the camera and then I dig My heels into the side of his face. I turned his face away from the camera and did some more face standing until he used his safeword ('Uncle' –hahaha). I made him suck on My heel a few times and kiss the bottom of My heels. Then I stood on the top of his face and towards the end, I finished with one heel on his throat and one on his face. Lucky guy!
If you like this clip, also check out My Face Standing in Fetish Heels clip!