After our date, I invite you over to My house and up to My bedroom. I rub my hands all over my satin blouse with a teasing look in My eyes. I undo one of the buttons and I tell you to get comfortable, take off your pants and underwear and to start stroking your cock for Me. I undo another button and reveal My bra and cleavage, but I noticed you aren't hard. I tell you that I'm going to get some sexy lingerie and I'll be right back.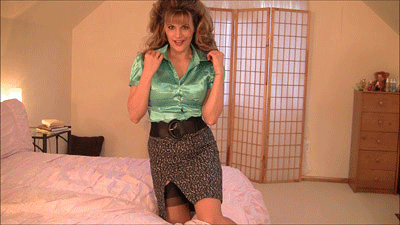 When I come back, I show you a few things I picked out to see what you like. But after seeing that you are still soft, My demeanor quickly changes and I demand to know what's going on with your limp dick! I make it clear that you are the ONLY man that's been in My bedroom and couldn't get it up. So it's clearly not Me. So what is it? Are you gay? You aren't one of those freaky fetish guys, are you? Oh wait…..are you a virgin? You have been with a woman before, right? Well then what's the problem?! Ticked off, I give you two choices: ONE–I can tell every woman I know (including some of your co-workers) about what a disappointment you are in the bedroom. And believe Me, women LOVE to humiliate men about such things. Kiss your future dating life GOODBYE. Or….TWO: I shoot a little video of you jerking your limp dick. Just for Me of course. You take the video option. As I record you, I tease you about playing with your flaccid cock and ask you if you're doing it right. Then I verbally humiliate you and make you repeat things into the camera. A limp dick loser like you can NEVER sexually satisfy a woman!
Sound familiar? I thought so. Get your wallet out and add this video to your jerk off collection!