Lingerie clip posted today:   Behind Closed Doors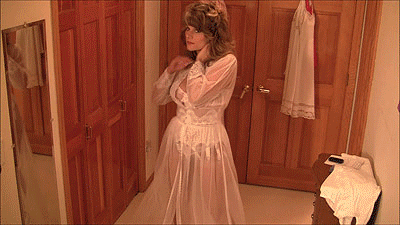 This clip is priced higher because in it, you get to see a little more of MY beautiful body than your eyes are worthy of seeing. So of course you are going to have to PAY for that honor.  If you love sheer lingerie, garters and stockings, satin gloves and classy topless tease, you are going to LOVE this clip! It's actually from 2012, shot in High Def and was for My (soon to be closed) lingerie paysite. But it's such a sexy clip that it needed to be included in My clips store. I start off wearing nude lace top stockings, a white lace 10 garter strap garter belt, white high heels, a see through bra and a very skimpy lace teddy….if it can even be called that??!  I walk into My closet and put on a sheer white robe over My lingerie and then walk towards the camera for some up close views of My robe, bra, garter belt and some AMAZING back views of My sexy round ass! There are some full views of Me in the robe and then I remove it and slip on a pair of white long satin gloves. After giving a little leg show, I walk towards the camera, slide My bra straps down My shoulders and remove My bra. I kind of dance around a little and then I start unhooking My garters from My stocking tops. Off comes the garter belt, then gloves and finally the teddy. The animated preview image doesn't show you much of this clip because you will have to BUY it to see more.
This is Bonus Video #91.
UPDATE: As of May 17th, this clip is #2 in the Lingerie category (My Mistress in her Boudoir is #1). $54.99 for 9 minutes of ME and you boys buy it right up! (Upped price to $99.99)