Available to purchase in My clips store tomorrow morning… Black Velvet Temptress
Here you are again. Back to feed your craving of seeing ME in long gloves. Well today I thought I'd wear a pair made out of a different material than satin. Today I'm wearing a pair of long black VELVET gloves. And I have to say, they are quite nice and feel really good. They go perfectly with the slinky, low-cut black velvet gown I'm wearing. Tell Me, who else knows about your little fetish for gloves? I bet I'm the only one who knows your little secret. Would you like to touch them? Touch my velvet gloved hands and arms.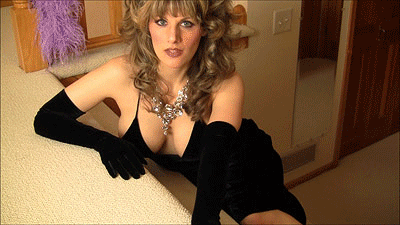 I actually don't think I've ever worn VELVET gloves before….. Satin, lace, mesh, leather, yes, but not velvet. They were quite nice actually.  🙂
I am looking out My window as I type this and I see the melted snow dripping off My roof. Yay sunshine!!  The snow was all gone a couple of days ago and then yesterday we got hit with a few inches of the stuff. Grrrr!  It's been such a long winter, can't wait for Summer!