Clips store updated today:    Ruffles and Lace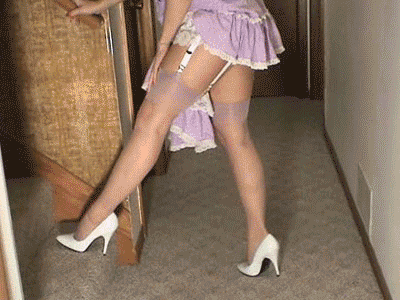 One of My classic legs, garters and lingerie tease clips from 2005! I just started shooting video clips back then and had so much to learn, but posing for the camera I had down since day one!  😉  As you can see from the preview image, this clip features legs, stockings, garters, high heels, panty peeks, lacy half slip, nylon feet, silky panties, skirt lifting, and at the very end of the clip I remove the dress and I'm in My bra and slip. This video was shot in Standard definition (640×480). If you love stockings and garters, and you enjoy some of My earlier videos, check out these other clips of Mine from 2005:
12 Garters  –Black stockings, shot outdoors on one of My trips to England.
Sexy Stroll  –One of My all time favorite clips because of the memories (and reactions!). Shot outdoors, out in public, on one of My trips to England.
Under My Skirt –Another outdoor clip, shot right here in the USA though.  😉  If you love legs and upskirt peeks, you are going to love this clip!
Speaking of upskirts, if that is your thing, here are two newer clips of interest:
The Pervert Trap –That clip sold really well.
The View from Below –As did this one. I was trying something new with that clip, as I shot it with my iPhone instead of My digital camera. I was able to capture a really low angle, which is perfect for the upskirt fetish!