Buy it at:   My Loyalfans store   or   My Clips4sale store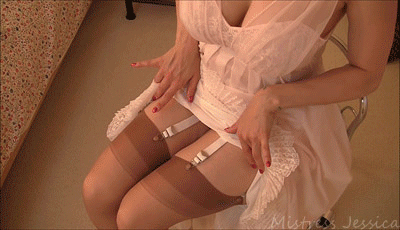 This clip was shot back in 2012 for My old lingerie paysite and it's such a great stocking, panty and lingerie video! I'm wearing a very rare pair of vintage full fashioned stockings in this clip. The slingback heels show off the stocking design the best. Although I remove the heels for parts of the videos and you get to see My nylon soles. There is some really great panty footage in this clip (especially the upclose views) that I was almost going to post this in the panty fetish category instead. Either way, you will enjoy this clip!
I did a blog post about these stockings back in 2012. And back when I had My paysite, I had mentioned in the members area that I found these SAME stockings on the MET's website. How cool is that?! I told you these were rare! CLICK HERE to view that screenshot.
(This was Bonus Video #63.)
Speaking of Bonus Videos….I remember the last few months of having My paysite and some guy from the UK joined and he was trying to get ME to sell him ALL 120 of MY bonus videos to him for $100. HA HAHA  HAHAHAHAHAHAHA  *AND* he was acting like it was a good deal for Me. Are you fucking kidding ME?  Have I mentioned about a hundred times how much I disliked running a paysite??  And that yucky cheap paysite mentality?? Oh, yeah, I did…..