I had shot two new clips on Monday, but I didn't like how the second one turned out (I'm picky like that). So instead of posting nothing tomorrow, I am reposting a classic upskirt tease clip that was removed from My lingerie paysite a while ago.
Like My Slip and Stockings clip, this is another really old clip (2005) that has been removed from My members area of My lingerie paysite for quite a while. I wanted to repost this clip because it's just a great, classic upskirt tease. Since it's from 2005, the quality isn't going to be as good as My current HD clips. Also, the first part of the clip is a little loud because of the wind. In this video you'll find Me wearing a white sheer petticoat, white panties, garter belt, white high heeled pumps, tan Full Fashioned (seamed) stockings, a rather "Prim and Proper" dress and of course you'll see teasing peeks up My skirt!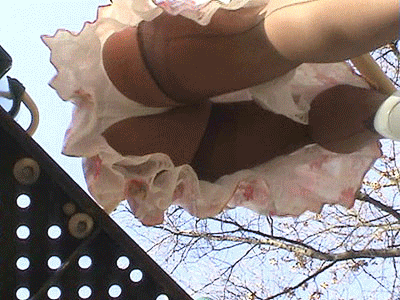 This clip was shot back in April 2005–NINE years ago!  I was a redhead back then, albeit an artificial one. 

  (My natural hair color is blonde). Shooting videos outdoors is always….interesting.  Believe it or not, but I don't like to draw attention to Myself when I shoot clips outdoors. I just want to do My thing and be on My merry way. So I'm always paying attention to My surroundings and any cars that pull up. Well in the background, there are two cars parked side by side. When we first started filming there was just one car, with a man in it. But soon a second car pulled up next to that car (van) and a female got out and got into the other vehicle. I liked to think that they were having a little afternoon fling.