For a brief history on this clip, view My FIRST Flashback post and then My SECOND. This is the third of those clips and eventually I'll get around to posting the other four. Well, not the actual clips, just little animated gifs.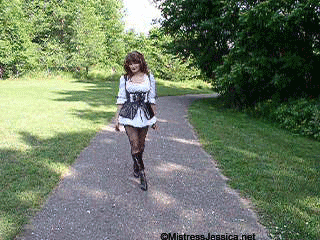 This clip was shot in August 2004 and I did a photoset at the same time. I actually still have this Swiss Miss costume and I have fond memories of it. Several years ago, when I was in England, I went to a couple of fetish clubs in London with a friend and I wore that same outfit. I had so much fun that night dancing My ass off at Club Rub. I even allowed some random slave to rub My sweaty fishnet feet. haha Good times.
Like the other clips I shot back in 2004, it was just around 30 seconds long.